Study
harp instruction
With over 15 year years of teaching experience, it is Angela's goal to tailor your lessons to your age and skill, and to light your enthusiasm for the joy for music making.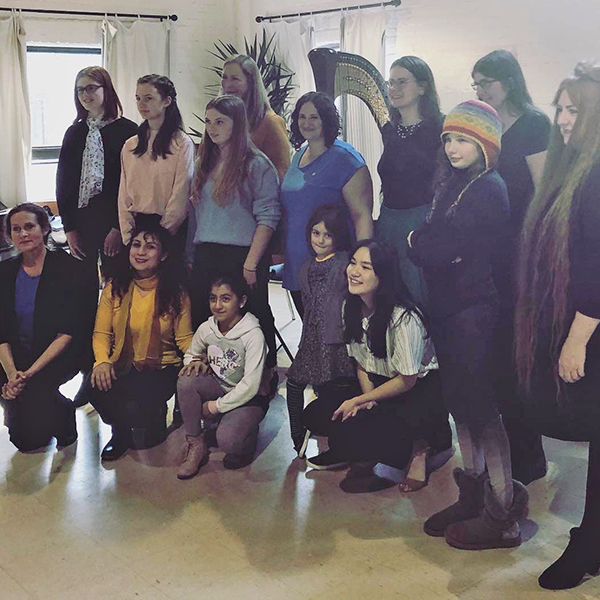 lesson information
Angela has worked with students of all ages from four years old to eighty plus. Her teaching covers a wide range of styles, from helping students develop through the Royal Conservatory of Music program, to teaching contemporary and Celtic music. Her studio is in the East York area of Toronto, but online lessons are also available. Angela believes that students and teachers should be compatible – that is why she offers a free trial lesson to see if we work well together.
Services offered:
beginner, intermediate, and advanced harp lessons
beginner theory lessons
chamber music coaching
In addition to her private studio, Angela is an instructor at the University of Toronto and the Glenn Gould School and is on faculty at the Young Artists' Harp Seminar. Angela has served as an adjudicator for harp at the National Arts Center Orchestra Bursary Competition, the Kiwanis Music Festival, The Glenn Gould School, the University of Toronto, the Toronto Harp Society, and the Young Artists' Harp Seminar. Recently she has given masterclasses at the University of Toronto, the University of Arizona, and the Young Artist's Harp Seminar. Angela is a harp examiner with the Royal Conservatory College of Examiners.
Angela assists her student to find harps in the GTA to rent or buy.
Please visit the Contact Page for more information including rates and availability.
"Angela holds a doctorate and is the recipient of a Juno Award and yet she is willing to work with a retiree who is an absolute beginner. She's a student's dream. She makes learning a joy. She is deeply respectful of my physical challenges and creates a learning environment where I can thrive. I appreciate her kindness, patience and investment in my success.  Angela makes music a joy at any age or stage."
"Angela is very understanding and very motivating. She is full of energy and always happy for me when I do well. She is very invested in her students and cares so much about them.
"I am very fortunate and proud that I have the opportunity to learn from Angela. Angela is a highly qualified teacher with a whole lot of experience, achievements and expertise. She's very flexible and supportive, and I feel very confident under her guidance. I look forward to learning even more from her!"
"Angela's unwavering positive attitude and vast knowledge about the harp have been immeasurably helpful in helping me to improve my playing."