About
angela schwarzkopf
With her 2020 JUNO Award for Classical Album of the Year: Solo or Chamber, Angela Schwarzkopf became the first harpist to recieve the award in 25 years, joining fellow Canadian harp icons Erica Goodman and Judy Loman.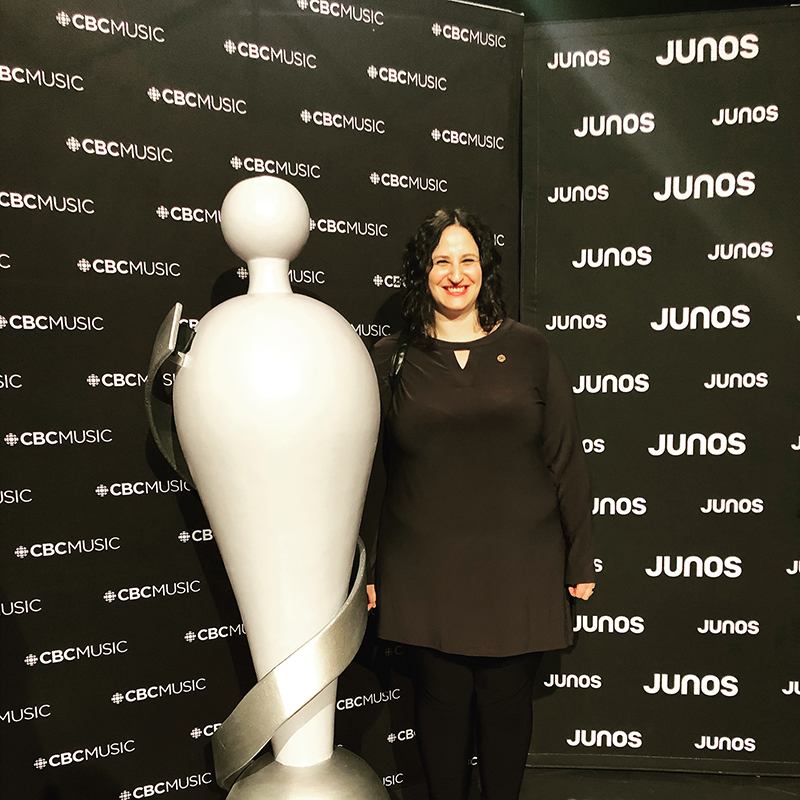 Biography
JUNO award winning harpist Angela Schwarzkopf concertizes throughout the Toronto area and beyond as a soloist, chamber musician, and orchestral harpist. The first harpist to receive a Doctorate of Music in harp performance in Canada, she now teaches at a number of esteemed institutions and performs with top ensembles nationwide. Favorite performances include Raga by Caroline Lizotte with harp legend Judy Loman, Bartok Concerto for Orchestra with the National Art Centre Orchestra for their 50th Anniversary, and the double harp concerto The Passion of Angels by Canadian composer Marjan Mozetich with fellow harpist Erica Goodman and the Hamilton Philharmonic Orchestra. She is also a founding member of The Topaz Duo with flutist Kaili Maimets. Angela works regularly with many top choral and orchestral organizations throughout the area, including the National Arts Centre Orchestra, Hamilton Philharmonic Orchestra, Kitchener-Waterloo Symphony, London Symphonia, and at the Stratford Festival, among others.
Show More
As an advocate for new music, Angela has worked on commissioning projects with many prominent composers. Her debut album, detach, of all Canadian new music won a 2020 JUNO award for Classical Album of the Year: Solo or Chamber, and is regularly played on CBC radio. detach, features several new Canadian commissions by composers Monica Pearce, Elisha Denburg, Kevin Lau, and Mark Nerenberg. She has received grants from the American Harp Society for commissioning new works and a grant from the Ontario Arts Council for her recording project. Her collaboration with the Caution Tape Sound Collective in 2016 and the Toy Piano Composers in 2014 yielded three new harp solos and five new chamber works for harp. Angela continues to actively support Canadian new music, and recently gave a presentation to the Canadian League of Composers on writing for harp. Currently, The Topaz Duo is commissioning a new work for flute and harp by composer Kevin Lau for their upcoming recording project featuring works by living composers.
Angela is a course instructor at the University of Toronto and the Glenn Gould School of Music and is the harp instructor at McMaster University. During the summer she is on faculty at the internationally renowned Young Artist's Harp Seminar in the US. Angela maintains a thriving studio of private students in Toronto. Angela is the newly appointed harp examiner with the Royal Conservatory College of Examiners. Recently, Angela has given masterclasses and presentations at several institutions including the University of Arizona and Sam Houston State University. As a juror, she has adjudicated for recitals, juries, chamber music, orchestral exams, and auditions of all kinds. Most recently she has adjudicated for the National Arts Centre Orchestra Bursary Competition, the Kiwanis Music Festival, the University of Toronto, the Glenn Gould School, and at the Young Artist's Harp Seminar Competition.
A frequent contributor to the international publication Harp Column, Angela also serves on the editorial board of The American Harp Journal. An extract of her doctoral dissertation was published in the 2016 summer edition of The American Harp Journal. During the summer of 2016 Angela presented her research at the American Harp Society National Conference in Atlanta. In 2019 she was invited to perform and speak on a panel at the American Harp Society Summer Institute. After serving as President of the Toronto Chapter of the American Harp Society from 2012-2018, she now serves as Second Vice President and Director at Large for the American Harp Society. Angela Schwarzkopf received a Bachelor of Music in harp performance from the University of Ottawa in 2007; a Master of Music in harp performance from the University of Toronto in 2009; and a Doctorate of Music in harp performance from the University of Toronto in 2015. 
Young Artist's Harp Seminar
American Harp Journal
Editorial Board, 2018–2022
Ontario Harp Society
President, Ontario Chapter of the American Harp Socety, 2012–2016